SEM-231
RX Stereo Bluetooth Receiver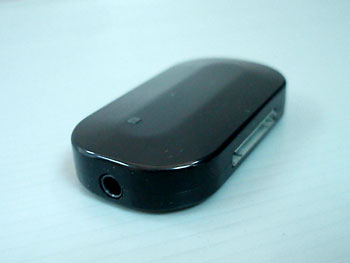 Features:
Compatible to all iPod-docked speakers.
Supporting A2DP Bluetooth devices, such as Mobil phone, PDA, NB, B/T built-in or connected audio players.
Automatic paring feature enables you ¡§plug to enjoy¡¨ the music.
Built-in 3.5 mm line-out port for

Hi-Fi extension.

Built-in mini USB port for power supply.
Specifications:
Operating Frequency Band: 2.4GHz~2.48GHz unlicensed ISM band.
Bluetooth Specification:

V1.2 , A2DP

Modulation Method : GFSK,1 Mbps, 0.5BT Gaussian
Maximum Data Rate:
Asynchronous :

723.2k/57.6kbps


Synchronous :

433.9k/433.9kbps

Receiving Signal Range :

-83dbm to -20dbm

Receiving Sensitivity :

-83dbm 0.1%BER.

Size(mm) :55*30*10